Hurricane risks in other places
It's not just Florida that should worry.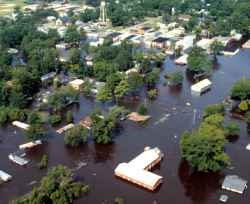 Though Florida and the Gulf Coast (Alabama, Louisiana, Texas) are most likely to be hit by major hurricanes, they can also strike anywhere along the Atlantic seaboard. Other hotspots include (in order of decreasing probability) Jacksonville, FL, Savannah, GA, Charleston, SC, Wilmington, NC, Norfolk, VA, and even Providence, RI.
If hurricane frequency increases to normally active levels, residents of Southern coastal areas will not be the only ones who suffer from the effects of these storms. Half of all hurricane fatalities occur from inland flooding, and much of the Eastern United States may have six inches or more of rain fall within a few hours as a hurricane mutates to a moisture-laden tropical storm as it travels over land.
New England not immune - Though rare, hurricanes and tropical cyclones have caused widespread damage in New England. Since 1900, nine hurricanes made landfall on the New England coastline, and four were Category 4 intensity. Gusts of 180 mph have been recorded, with severe flooding due to massive rainfall and storm surges of 15 feet.
West Coast hurricanes - No hurricane-category storms have ever hit the West Coast of the U.S. The typical hurricane in the eastern Pacific starts life in the warm waters off the coast of Mexico. Since winds over the tropics generally blow from east to west, these storms usually migrate towards the open, cooler water of the Pacific where they weaken and die. Occasionally, remnants of Pacific tropical storms may hit the West Coast, bringing strong winds and heavy rain. Long Beach, CA was hit by such a storm in 1939, killing more than 40 people. The Pacific Northwest was hit by a freak storm in 1962 which registered winds of 115 mph in Portland, OR.
Hawaiian hurricanes - Thanks to the cooler water of the open Pacific, Hawaii has been hit by only two hurricane-force storms since 1950. Kauai was hit in 1959 and again in 1992, along with the island of Oahu. Even without a direct hit however, hurricane-force winds at sea occasionally send huge waves crashing on island beaches and bring rains which cause serious flooding.
Hurricane or Typhoon? In the Atlantic and eastern Pacific, tropical storms are termed "hurricanes." When storms are west of the International Date Line, they are classified as "typhoons." In fact, the same storm will be renamed if it crosses the Date Line, such as "Typhoon Gretchen" to "Hurricane Gretchen."
Hurricane season. 97% of hurricanes occur between June 1 and November 30, with the most activity occurring in the early to mid September. In an average year, there is an 8% probability of a hurricane making landfall somewhere in southern Florida in the month of September.
Flood preparedness
Minimize your risk by doing your homework before you move. Use care to research the location of your new home." Here are some tips to follow when considering a home in an area which may be affected by periodic flooding:
Contact your insurance agent to determine the kind of insurance you can obtain, and the cost.
Check flood hazard maps to see if the site is in danger of flooding. You can view these online at www.fema.gov. Click here for tips to avoid flood damage.
Learn the location of recommended evacuation routes.
Keep a disaster supply kit on hand – with enough food and water for 3 to 7 days, plus a radio, flashlight, batteries, cash, first aid supplies, prescription drugs, clothing, tools, and fuel.
Click here for additional tips regarding hurricane preparedness.