Hurricane Preparedness
Getting ready for the big one.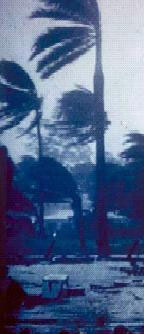 Between 1965 and 2004 (nearly 40 years), the Florida peninsula had only one major hurricane that made landfall (hurricane Andrew in 1992). The normal long-term probability of an intense hurricane hitting somewhere in Florida or on the East Coast is about once every three years. The odds are slightly better for the Gulf Coast, from the Florida Panhandle through the Texas coast.
If hurricane frequency increases to normally active levels, residents of Southern coastal areas will need to prepare the new onslaught. Minimize your risk by doing your homework before you move. Use care to research the location of your new home, and how it is constructed.
Here are some tips to follow when considering a home in a hurricane area:

Contact your insurance agent to determine the kind of insurance you can obtain, and the cost.
Check flood hazard maps to see if the site is in danger of flooding. You can view these online at www.fema.gov/maps.shtm. Click here for tips to avoid flood damage.
Make sure the house has been built to newer, more stringent building codes such as those in Miami-Dade county and South Florida. These new standards, which are designed to withstand 145 mph winds, were implemented in 1994 and continue to be refined. Click here to learn about securing your existing home against a hurricane.
Have a "safe room" in the house, which is a specially constructed space in the home's interior to provide a sanctuary during hurricanes or tornadoes.
Learn the location of recommended evacuation routes.
Keep a disaster supply kit on hand – with enough food and water for 3 to 7 days, plus a radio, flashlight, batteries, cash, first aid supplies, prescription drugs, clothing, tools, and fuel.