CONTACT: David Schraeder
212-468-4313
New Analysis Ranks America's Worst Cities for Respiratory Infections
-- Sperling's BestPlaces Ranking Helps Raise Awareness of Respiratory Infections During Respiratory Season --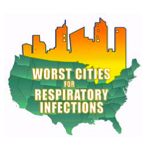 NEW YORK—December 6, 2005—A new analysis, which ranked the 50 worst cities for respiratory infections in the United States, was released today, naming Greenville, South Carolina as the top city for respiratory tract infections. Rounding off the top 10 are: Nashville, TN; Birmingham, AL; Oklahoma City, OK; Greensboro, NC; Little Rock, AR; Dallas, TX; Dayton, OH; Jacksonville, FL; and Charlotte, NC. Bert Sperling of Sperling's BestPlaces conducted the study. A city was identified as a worst city for respiratory tract infections based on three criteria: (1) prevalence of the following: sinusitis, pharyngitis (sore throat), bronchitis, acute upper respiratory infections, pneumonia, otitis media (middle ear infection), other respiratory tract infections and the common cold; (2) total per capita prescriptions written for oral antibiotics for respiratory tract infections; and (3) prevalence of state level antibiotic resistance.
"Millions of respiratory tract infections occur each year," said Bert Sperling. "This ranking, the first of its kind, may increase awareness of respiratory tract infections in cities and regions across the country."
The ranking of these cities is significant in light of results of a recent separate survey of 1,789 physicians conducted by Harris Interactive with a margin of error of five percent. This survey found that 41 percent of all physician visits during the months of October through March are from patients seeking medical advice or treatment for respiratory tract infections. Based on their clinical experience, half of the doctors surveyed agree that respiratory tract infections are more difficult to treat now than 10 years ago. Moreover, 90 percent of all the physicians are increasingly concerned about drug resistant pathogens when treating respiratory tract infections, and 93 percent of them agree that inappropriate use of antibiotics is a contributor to the development of resistant pathogens.
"With respiratory season in full swing, respiratory infections can be challenging to avoid and easily spread. If you do become ill, it is important to accurately describe your symptoms to your doctor to help determine whether you have a bacterial infection, which may need to be treated with an antibiotic, or a virus, such as the common cold, for which antibiotics are ineffective," said B. Chandler May, MD, otolaryngologist and clinical research scientist at Santa Barbara Cottage Hospital in Santa Barbara, California. "If it is a bacterial infection, your doctor will be able to prescribe an antibiotic that is appropriate for your specific infection and instruct you on how to take it."
Measures to Prevent and Treat Respiratory Infection
Respiratory infections are common, whether or not you live in one of the top ranked cities. Fortunately, there are a number of steps you can take to prevent respiratory infections:
Practice Good Basic Hygiene
Don't overlook the basics. According to the CDC, appropriate hand washing is one of the most effective ways to help stop germs from spreading. When you are sick, stay at home and avoid close contact with others. In addition, cover your mouth and nose when coughing or sneezing.
Get Vaccinated
Speak with your doctor about which vaccinations are appropriate for you.
Treat Infections Appropriately
Many infections are caused by two kinds of germs—bacteria and viruses. Antibiotics are effective in eliminating bacteria, but will not cure viral infections or prevent the virus from spreading.
Not All Antibiotics are Alike
Not all antibiotics are alike or appropriate for every infection. Talk to your doctor to determine which antibiotic, if any, is right for you.
Take Medications As Directed
If antibiotics are prescribed for your respiratory infection, take the medication exactly as directed by your doctor. Complete your entire prescription even if you are feeling better, do not skip doses, do not take antibiotics prescribed for someone else, and do not save prescriptions until the next time you are sick.
Trends of Respiratory Infections Across the 50 Worst Cities
In addition to identifying the worst cities for respiratory infections, the study found that the Southern region included the most high-ranking cities, followed by the Midwest, Northeast and the West, respectively. Out of the top ten worst cities for respiratory infections, eight are located in the South. In contrast, not only did the West region have the least cities on the list, but also had eight out of the top ten cities where physicians write the fewest respiratory antibiotic prescriptions per capita.
While Greenville, SC ranked the worst city overall, places that ranked highest in the individual categories include:
- St. Louis: highest percent of its population affected by respiratory infections
- Nashville: most respiratory antibiotics prescriptions written per capita
- Nevada: highest incidence of antibiotic resistance
The 50 Worst Cities for Respiratory Infections are:
1. Greenville, SC
2. Nashville, TN
3. Birmingham, AL
4. Oklahoma City, OK
5. Greensboro, NC
6. Little Rock, AR
7. Dallas, TX
8. Dayton, OH
9. Jacksonville, FL
10. Charlotte, NC
11. Tampa, FL
12. Saint Louis, MO
13. Atlanta, GA
14. Columbus, OH
15. Richmond, VA
16. Philadelphia, PA
17. Cincinnati, OH
18. Orlando, FL
19. Houston, TX
20. Memphis, TN
21. West Palm, FL
22. Cleveland, OH
23. Las Vegas, NV
24. Salt Lake City, UT
25. New Orleans, LA
26. Kansas City, MO
27. Milwaukee, WI
28. Indianapolis, IN
29. Chicago, IL
30. Louisville, KY
31. Pittsburgh, PA
32. Baltimore, MD
33. Denver, CO
34. New York, NY
35. Albany, NY
36. Miami, FL
37. San Antonio, TX
38. Detroit, MI
39. Washington, DC
40. Norfolk, VA
41. Boston, MA
42. Albuquerque, NM
43. Hartford, CT
44. Seattle, WA
45. Phoenix, AZ
46. Buffalo, NY
47. Portland, OR
48. Los Angeles, CA
49. Minneapolis, MN
50. Sacramento, CA
The Worst Cities for Respiratory Infection program including the ranking of the 50 Worst Cities and the Harris Interactive survey are funded by sanofi-aventis. Sanofi-aventis also provided the publications and syndicated data used in this analysis.
About the Worst Cities for Respiratory Infections Ranking
The analysis to determine the Worst Cities for Respiratory Infections was conducted to raise consumer awareness about respiratory infections. Sperling's BestPlaces ranked the cities using a computer model to perform calculations based on statistical data for each city. The data used to perform the analysis were taken from three sources: (1) prescription rates by market from IMS Health Services (IMS), (2) diagnostic tracking data from Surveillance Data Inc. (SDI), FAN and FAN DX reports from 2002 to 2005, and (3) state level antibiotic resistance rates from Prospective Resistant Organism Tracking and Epidemiology of the Ketolide Telithromycin - United States (PROTEKT), a study sponsored by sanofi-aventis. The latter is one of the largest antibiotic resistance surveillance studies evaluating pathogen resistance in more than 206 sites across 44 states. A total score was derived for each city by adding the percentile scores from each database. The cities are ranked according to this overall score, providing a list of America's Worst Cities for Respiratory Infections.
About the Harris Interactive Survey
In September 2005, 1,789 physicians (family practice, general practice, internal medicine, geriatrics, pediatrics, infectious disease) were contacted to evaluate their attitudes, beliefs and behaviors with respect to respiratory tract infection treatment and the subsequent use of antibiotics. The surveyed physicians are based in the United States, have been in practice for three to 30 years, and are a representative sample of general practitioners across the U.S. The survey was fielded by Harris Interactive, a worldwide market research and consulting firm.
About Bert Sperling and Sperling's BestPlaces
For nearly 20 years, Bert Sperling has been helping people find their own "Best Place" to live, work and retire. His firm, Sperling's BestPlaces, puts facts about cities and living in the hands of the public, so they can make better decisions about best places to live, work, retire, play, or relocate. Bert Sperling's Cities Ranked and Rated was released in March 2004 and another book, 100 Best Cities for Families, will be available in Spring 2006. More information about Bert Sperling and Sperling's BestPlaces is available at www.bestplaces.net.
About sanofi-aventis
The sanofi-aventis Group is the world's third largest pharmaceutical company, ranking number one in Europe. Backed by a world-class R&D organization, sanofi-aventis is developing leading positions in seven major therapeutic areas: cardiovascular disease, thrombosis, oncology, diabetes, central nervous system, internal medicine, and vaccines.